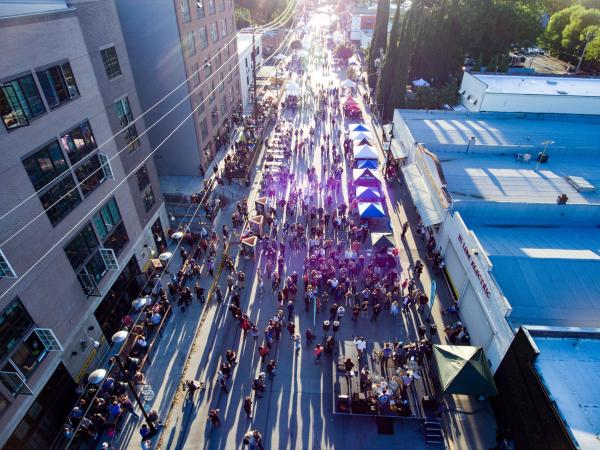 The third annual R Street Block Party kicks off Saturday, June 24 and showcases local creatives with a handmade goods market, art exhibits, live music and plenty of food in one of Sacramento's most exciting public spaces.
"The event started as a showcase for super-talented up-and-coming designers," said Trisha Rhomberg, who founded the event in 2015. "The Makers Mart has a lot of artisans and emerging artists. This isn't your grandma's craft fair."
The Makers Mart features 40 Northern California vendors with handmade items, and six live bands will play throughout the event, which runs from 3-8 p.m. on R Street between 11th and 13 streets Saturday, June 24.
Live art hosted by 1810 Gallery will allow visitors to see artists in the process of creating their works for a more immersive experience.
"This is a Sacramento art scene party," Rhomberg said. "It's got fresh, creative energy, and it's a chance to bring people down here who aren't as familiar with our arts scene and really give them an introduction to it."
Food vendors will be on site, and R Street itself bristles with exciting restaurants and bars as the once-industrial corridor continues the evolution it began several years ago into a hip urban hangout that's quickly becoming more and more of a destination for locals and visitors alike. Learn more about R Street in this article in our latest Sacramento Visitors' Guide.
A kids' zone will provide fun for the little ones, and the festival is free, so it's a great opportunity for families to spend time together and immerse themselves in the Sacramento arts scene, Rhomberg said.
Visit the R Street Block Party website for more information.
Image at top by Eli Margetich​.