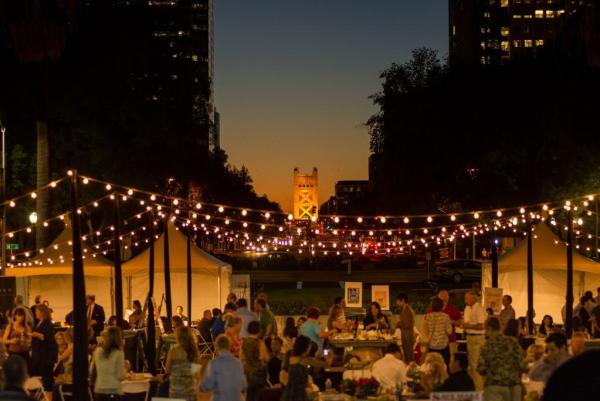 It's September, and that means that the 2015 Farm-to-Fork Celebration is in full swing in Sacramento, America's Farm-to-Fork Capital.
Food festivals, farm dinners, wine tastings, local beer fests and restaurant specials highlight this year's annual celebration. Don't miss out on the fun and the opportunity to savor the best local flavors of the Sacramento region.
While there are numerous events throughout the month, there are four flagship events coordinated by the Sacramento Convention & Visitors Bureau as well as the first-of-its-kind California Craft Beer Festival.
Sacramento Seeks to Set World Record
Many think of farm-to-fork dining as a privilege for the wealthy who can afford fine restaurant meals, and while Sacramento boasts multiple high-end restaurants, farm-to-fork eating is available to all. The Sacramento Food Bank and Family Services doles out farm-fresh food every day to those in need, and this year, to kick off the celebrations, Sacramento will seek to set the Guinness World Record for most fresh food donated in a single day on Sept. 9.
All donations will be given to the Sacramento Food Bank, and event organizers hope the record will help tell the story of the need for farm-fresh food throughout the community and inspire other cities to do the same.
California Craft Beer Festival
The California Craft Brewers Association is holding its craft beer summit in Sacramento on Friday, Sept. 11, at the Sacramento Convention Center, and while the event is open to the public, it's geared toward the serious beer aficionados. On Saturday, Sept. 12, however, there will be a beer festival stretching down Capitol Mall featuring the best of California craft brews. Learn more here.
Farm-to-Fork Restaurant Weeks Presented By Lexus
From Sept. 10-27, more Sacramento restaurants than you'll be able to fit in will be participating in the third annual Farm-to-Fork Restaurant Weeks, where each participating restaurant will create special menus consisting of all-local foods. And, of course, drinks aren't excluded, as Sacramento's vibrant craft cocktail scene makes great use of local ingredients as well.
Legends of Wine
Sip wines from more than 40 local wineries selected by Sacramento wine royalty Darrell Corti and David Berkley on the west steps of the California State Capitol with a view of the sun setting over the iconic Tower Bridge. The third-annual Legends of Wine event features artisan cheese, local breads and other bites paired with wines from Sacramento, Amador, El Dorado Hills, Lodi and more. It's a fun event that helps you ease into the weekend on Thursday, Sept. 17. Buy tickets now.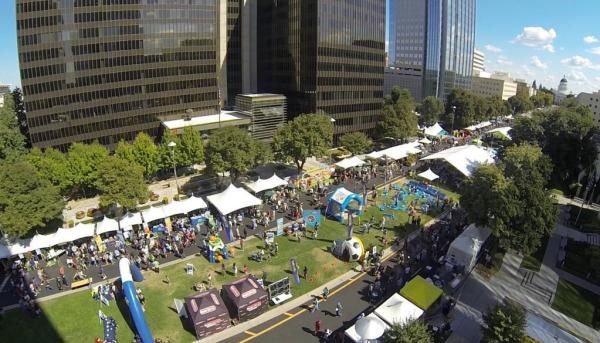 Farm-to-Fork Festival
The highlight of the month for many Sacramentans and visitors to California's capital city is the annual Farm-to-Fork Festival that stretches down Capitol Mall from 11 a.m. - 5 p.m. on Saturday, Sept. 26. Vendors with local food, farmers market-style produce sections, local olive oil, cheese, and beer and wine drew approximately 35,000 people in 2014.
Chef demonstrations, live animal exhibits, a kids zone, live music, local food trucks and educational exhibits round out the activities.
Tower Bridge Gala Dinner
The sold-out Tower Bridge gala dinner caps off the month's activities, setting a table for more than 700 people down the center of the city's landmark Tower Bridge. A family-style meal prepared by more than 20 local chefs is preceded by appetizers and drinks, then followed by dessert on the Embassy Suites Promenade along the Sacramento River near Old Sacramento.
An Event for Every Palate
The above events are just a few of the many going on in the region this month. Visit the official farm-to-fork event listing for a full selection.
Stay With Us
Throughout the month, the Sacramento Convention & Visitors Bureau lists hotel deals for visitors coming to attend the events. Check out the specials here.
Join the Conversation
Food should be social – don't forget to follow us on Instagram (@VisitSacramento and @SacFarm2Fork), Twitter (@VisitSacramento and @SacFarm2Fork) and Facebook (Visit Sacramento and Farm-to-Fork Capital of America). Use the #SacFarm2Fork hashtag to stay up to date.