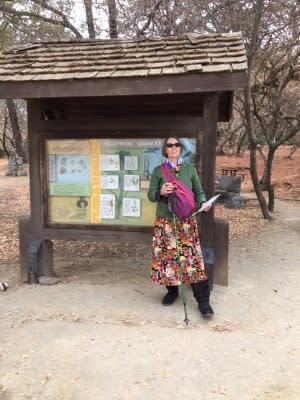 One lovely fall day, Jackie, Carol, and Janet met in Loomis for a Hometown Tourist adventure, to the Griffith Quarry Park in Penryn. Griffith Quarry Park is an amazing outdoor attraction just a short, 30-minute drive from downtown Sacramento. 
Once we finished our lunch at the Green Elephant restaurant in Loomis, we checked our maps for directions and got on Taylor Road heading east toward the Griffith Quarry. We enjoyed the simple sight of quaint and scenic hills mellowed with fall colors, blue sky and wispy clouds. 
The landmark gray stone building on the southwest corner of Rock Springs Road and Taylor Roads let us know we'd arrived at Griffith Quarry. We parked under a canopy of oak, pine, and buckeye trees and wandered over to look around. The museum building's green painted shutters were closed tight. We could not see a thing through the windows, but made note of the museum's open days and hours. A local gentleman in a bowler hat sat at the picnic table strumming a tune on his guitar.
As we started along the trail to the main quarry area, we encountered a man with rock climbing shoes in his hands. We asked him if there was water back at the quarry. He kindly let us know that there was water, and we proceeded to the overlook. We saw the water, a bright green from the bloom of duckweed, way down at the bottom.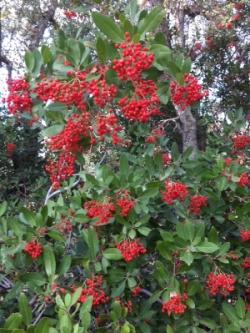 We circled around another trail, up a slight incline and onto a plateau that gives an expansive view across the hills to the southwest. We marveled at the bright red of toyon berries. Several times we picked up and exclaimed over the odd shape, color and texture of fallen buckeyes and their pods. All through the Griffith Quarry Park, benches here and there invite people to set a spell and contemplate the scenery, including the granite boulders patterned with all colors and textures of lichens.
We followed a trail down toward the water. We could not get right to the water as there was a steep drop off. We walked back up to another overlook place, directly across from where we first came in.  It was easy to imagine that piece of driftwood being a crocodile (except that we don't have the climate for those large amphibians)!
We took the central trail that goes down toward the other quarry pond. This trail leads to an expansive granite outcropping. Visitors are held back from the sheer edge of the rectangular quarry pit by an iron fence. We could see huge wooden beams askew and sticking out of the water. We observed cattails growing in the middle of this quarry pond. We fell silent for a few moments, watching the afternoon shadows, breathing in the autumn foothills fragrances and listening to the quiet sounds of the forest. Then we woke things up by playing strangely amazing music from two large iron chain links fastened into the rock that clanked most pleasingly as we moved them around.
Before leaving this spot, we spotted an American flag through the trees against the blue sky across the way. Curious, we followed another trail around to some tumbled rocks, and found a picnic table. We talked about adventures and rescues. We discovered an overlook place with a bench where a person could meditate and feel the breeze with their eyes closed.
We spotted that flag again, but it was up a steep incline. We decided not to go all way up, but Carol took some pictures. We watched a baby lizard dart into a pile of big leaning rocks. He was too quick to catch in photo!
We circled back toward the parking lot, and we saw a marker for the site of the quarry blacksmith shop. We talked about how people make black-and-white art photos of old equipment. This recalled us to our former Hometown Tourist colleague, Cindy, and her photographic talents from many of our other Hometown Tourist adventures. It was not the first time in our conversation this day, and since she moved to Washington,  that we said "Cindy would really like this!"
So here's our advice: Any chance you have, get together with your friends and go up to see the Griffith Quarry on a weekday or weekend, any time of the year.  Take your lunch, find a table and enjoy history, scenery and, on a weekday, the quietude.
If you have some extra time while in the area, spend it looking around downtown Loomis:  Check out the High Hand Nursery and Café, the Blue Goose Produce and Event Center, and Christiansen's Saddlery. Have lunch at the Green Elephant. You'll discover the amazing flavors of Burmese cuisine. We highly recommend the Tea Leaf Salad.  On the way to Griffith Quarry, you might want to stop in to see what's offered at Foothill Feed and Gift on Taylor Road.
We got back on Highway 80 heading back toward Sacramento about 2:00 p.m. before the commute traffic heated up. Making plans for our next get together soon! Here are some more of the photos from our adventure!