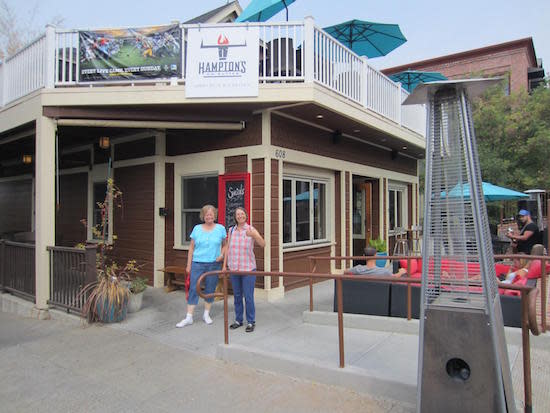 Folsom's Museum of Wonder and Delights -- it's for the kid in all of us.  The newest of Folsom Historical Society's museums, the Folsom Museum of Wonder and Delight opened in mid-September 2015. Cindy, Carol, and Janet visited the museum on its opening weekend. 
As you enter from the plaza just north of the Historic Folsom light rail station and parking garage, the lobby and gift shop are in front, with the special show "Animal Crackers" intriguingly glimpsed through the doorway to the next room. The permanent collections, "Tall Tales" and "Christmas Dreams," follow in sequence to the back of the building.
The special show, "Animal Crackers," is on display through March 2016. It contains an amazing variety of handcrafted toys, masks, and folk art from all around the world, depicting real and mythological creatures. The variety of forms and techniques along with the bright colors will astonish and enchant you. 
We admired beadwork, weaving, and wood carving employed by the artists and craftspeople who created these marvels.  Some pieces are fine and delicate, such as the beaded lizards. Others, such as the bright chunky pull-toys, are sturdy and meant to be played with in everyday life.  We were particularly taken with the beaded llamas from South America, the shiny-paper peacock from India, and the pink bat kite from Bali (check out those teeth!).  
Wonderful whimsical masks, including a bat's face mask fashioned from old oil cans and accented with bright blue paint, a carved wooden warthog with curving tusks and a brushy topknot, and a shiny placid Ganesha sporting an elaborate crown of white pink and blue beading, captured our attention.  
We circled around the Animal Crackers displays at least twice, and still might not have noticed everything!  The nice thing is, that's a great excuse for another trip back to the Folsom Museum of Wonder and Delight.  Words don't do it justice. We encourage you to stop in and enjoy "Animal Crackers" for yourself.
The permanent displays, "Once Upon A Time" (Mother Goose & Tall Tales) and "Christmas Dreams" (Winter Scenes), feature numerous dioramas showcasing related collections of unique vintage toys, antique dolls, and miniatures from the late 1800s and early 1900s displayed in charming imaginative window-box tableaux. 
You will recall, as we did, many nursery rhymes and songs from childhood.  That said, the Folsom Museum of Wonder and Delight isn't just for kids -- it's for the kid in all of us.  We mingled among multigenerational groups of visitors talking and exclaiming and telling their stories to each other. It's a great destination for grandparents to take their grandchildren and share stories.
We invite you to spend an hour or an afternoon with the amazing displays at Folsom Museum of Wonder and Delight. While you are there, don't forget, there's much more to see and do in historic Folsom.  Parking is nearby and free. Light rail stops right there.  Plan on having brunch, lunch or dinner on your visit. Folsom boasts some wonderful places to eat, or just get a cup of coffee, ice cream or pastry.
This is the fourth trek the Hometown Tourists have taken into Folsom and the third in Old Folsom. Why so many trips? Because there is so much history and so much to see and do in one centralized location. There is so much to enjoy in Folsom that, when combined, it would be a very full long day, or in our case, multiple trips for a few hours at a time. And it is a very short drive or RT trip from downtown Sacramento.
Folsom is truly a tourist destination that is in our home town. We are so lucky to have the quality, quantity and variety so close. And the Folsom Historical Society is not done yet!  On the horizon is their plan for a museum showcasing Chinese history, contributions, and influence in the Folsom and Sacramento areas.  Did you know that at one time Folsom had the second-highest Chinese population in the USA?   We are looking forward to learning more when the new Chinese museum becomes reality.