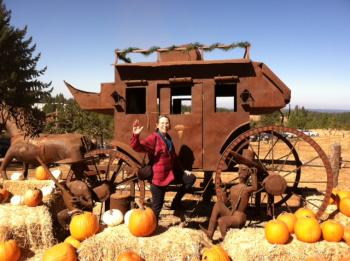 Whenever I find a place that I like, I love to visit over and over again. For example, my husband John and I have been to Yellowstone seven or eight times.  So each year, around the beginning of October, I start thinking about Apple Hill. That's a place we Hometown Tourists have visited more than once. Check out our first visit.
When we go to Apple Hill we like to go early in the day as we can. Usually we arrive in the vicinity around 11 AM.  As in most years, John and I started at the east end of Apple Hill (Exit 54) and worked our way west. We have our own favorite standbys, and then each year we try to mix in one or two places that we've never been to.
First Stop:  Mill View Ranch
Features:
Crafters' Booths
Bake Shop
Gift Shop
Pumpkin Patch
Wow Factors:
Best "Kid Town" play area I've ever seen.
A metal sculpture of full-size stagecoach and horse
The bakeshop at Mill View offers jams, pickles, and salsa in quart and pint jars. We bought a pint of dill pickles. The gift shop features an extensive collection of seasonal decorations and Christmas ornaments. I found a darling ornament of a chickadee on an acorn for our outdoor Christmas tree. And John bought a birdhouse that resembles a church. The prices for all these items were very reasonable.
Second Stop:  Apple Ridge Ranch
Features:
Great Lunch
Pine-shaded Picnic Tables
Wow Factors:
The Food
The Condiment Bar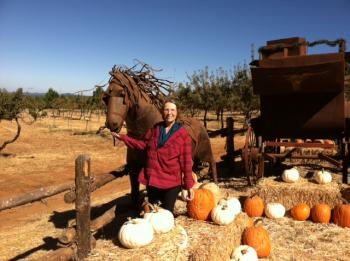 We ordered one barbecued tri-tip sandwich, one pulled pork sandwich, a side of coleslaw and fries. While we waited for our order I checked out the condiment bar. It was excellent. It had two kinds of barbecue sauce, yellow mustard, sweet pickle relish, Heinz ketchup, chopped onions and small packages of mayonnaise. Plenty of napkins, plastic forks, knives and spoons were available.
Our sandwiches arrived after a short wait. The French rolls were fresh and fluffy. We found a table under the pine trees and enjoyed our delicious lunch by piling on the condiments and folding in the coleslaw to our sandwiches from so satisfying. All this deliciousness cost just over $30, which is not unreasonable for what we got.
Third Stop: Bolster's Hilltop Ranch
Wow Factor:
Cider-Sicles
Because we forgot our ice chest we could not buy the quarts of cider from three different places like we've done in past years. But at Bolster's they offer frozen apple-cider-sicles for just a dollar. I bought one that lacked a stick and wasn't all the way frozen, but that was just what I wanted. The nice lady at Bolster's found me a plastic spoon so I enjoyed that cider-sicle to the utmost as John drove us on to the next place.
Please note, we did not yet have any apples!
Fourth Stop:  Apple Pantry Farm:
Wow Factors:
Vintage Cars
Pre-Baked Pies
Pie by the Slice
Local Honey and Jams
Crochet-topped Kitchen Towels
Great Ambience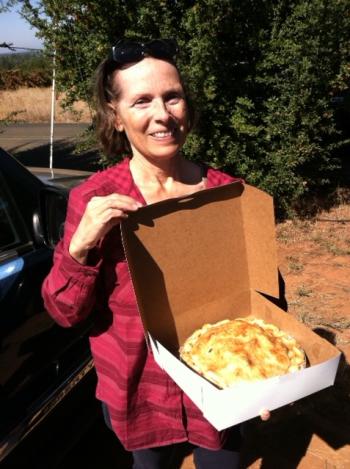 Just past the Jack Russell Brewery, we stopped at Apple Pantry Farm. It's a small place, nice and neat.  We always recognize Apple Pantry by the classic vintage cars in front. Their bakeshop is most deliciously fragrant, and their handmade pies are marvelous.
Most weekends, a lady who makes crocheted-top kitchen towels sells them from a table under the shade tree. I bought three. They make great gifts. In front of the barn, two young men peeled apples with a hand-cranked machine that spins the apple and shaves the peels into a bucket below. Inside the barn, shelves of jam and jellies and local honey are offered for sale. John bought a jar of mountain honey for his morning tea.
Up at the bake shop we bought a wonderful pre-baked pie for $20. The young woman taking our order explained to us how much she enjoys making those pies from scratch and by hand. For our pie she peeled the apples, made the dough, put in the spices and seasonings and baked it. Her joy was so evident that even though there was no ingredient label on the box, we knew that besides apples, our pie contained Love.
Please note, we still hadn't bought any apples!
Fifth Stop:  Boa Vista
Features:
Craft Booths
Apples!  (many varieties; by the bag, box, or pound)
Snack Shop
Store
Wow Factor:
Genial Staff in the Store
Boa Vista is a very popular place, but magically we found a parking spot quite easily. At Boa Vista they have just about everything! Crafters, apples, snack shop, barbecue. But we were after apples! Arkansas Black to be exact.  So many varieties are offered at Boa Vista. We bought two jars of Gravenstien apple sauce, and two kinds of apples, but did not see any Arkansas Black.  At the cash register I couldn't resist adding in the two saucer-sized apple cookies with raisins and walnuts.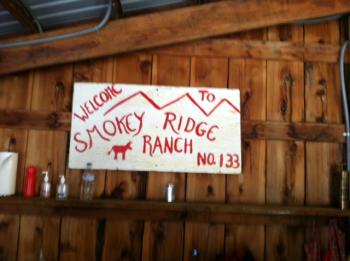 Sixth and Final Stop:  Smokey Ridge Ranch
Wow Factors:
Chestnuts
Sausages
Mystery Apple
Apple Oddities (near cash register)
Heading west from Boa Vista along Carson Road, our last hope for the elusive Arkansas Black apples was Smokey Ridge Ranch where they sell chestnuts and different mustards and feature unusual (and delicious smelling) sausages.  However, the lady told me that we were about three weeks too early for the Arkansas Black. No worries; we bought a selection of Staman Winesap, Rhode Island Greening, and a small sack of "Mystery Apples."  She said "Our uncle planted that tree years ago, but told us he doesn't remember what variety it is!"
Heading Home, Happy:
By the time we left Smokey Ridge, it was about 2 o'clock in the afternoon.  We had plenty of apples and other delights, and were ready to head home. But, remember, we get to come back and visit in about a month when the Arkansas Black apples are in! 
We'll no doubt visit Smokey Ridge again, along with some of our other favorites that we missed this time, such as Rainbow Orchards and O'Halloran's.  Each has their own set of features and wow factors. 
Come on up to Apple Hill and see for yourself!  Even when October goes, there will still be late-season pleasures for you and your family to enjoy.