AMGEN TOUR OF CALIFORNIA 10TH ANNIVERSARY CELEBRATION & OFFICIAL RIDER INTRODUCTIONS
State Capitol West Steps
Friday, May 8 / 6 p.m. – 9 p.m.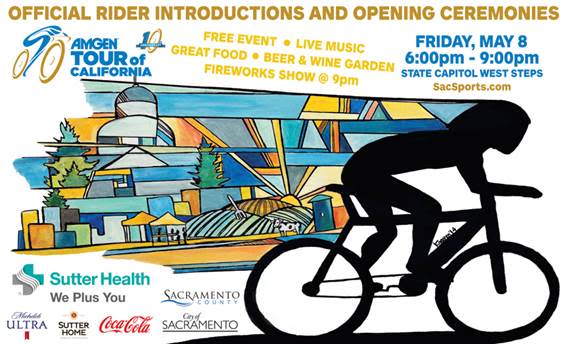 To celebrate the 10th anniversary of the Amgen Tour of California, the Sacramento Sports Commission and Sacramento Convention and Visitors Bureau decided to take a new approach to the opening night kick-off event. They wanted an event that brought the community together and didn't exclude anyone, welcoming any and all to come celebrate another exciting overall start of the race in our great Capital City. This year, they welcome one and all to the west steps of the State Capitol for a free, family-friendly block party. 
Teams will arrive staggered started at 6:30 p.m. and enter the catwalk for a fashion show like presentation. Be there to cheer on each team as they arrive!
Guests will enjoy: 
Live music by Garratt Wilkin & The Parrotheads (a Jimmy Buffett tribute group)

Kid's activities

Farm-to-Fork concessions including beer, wine and non-alcoholic beverages
G-Factor Game Truck
Step and Repeat for free photo opportunities
Amgen Tour of California RV and Champion System Road Team giving away tons of goodies
Dazzling fireworks display to cap-off the night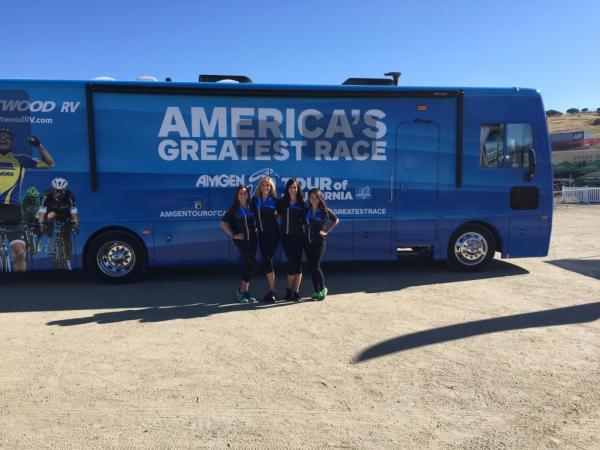 In honor of American's greatest race, event attendees are encouraged to cycle to the event and use the free Bike Valet provided by Sacramento Area Bicycle Advocates.
The event is free but a limited number of VIP tickets are available and include:
Exclusive backstage viewing
Complimentary food and beverage including wine and beer
Rider meet and greet opportunities
Preferred seating
Join us as we kick-off this exciting event and celebrate ten years of the Amgen Tour of California! We hope to see you there.