It's time to put on some beads, grab some King Cake, and let the jazz music flow, because there's plenty of Mardi Gras fun to be had here in Sacramento.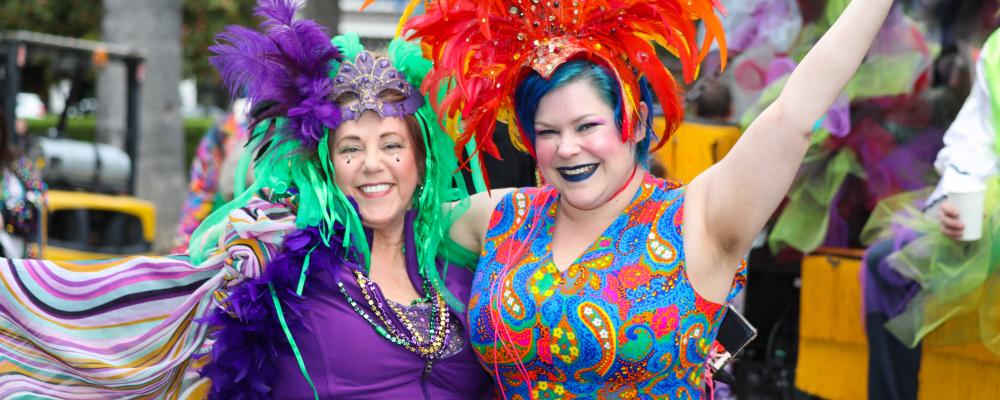 Image Courtesy of: Alan Shekter
Bon Temps Burlesque: A Mardi Gras Celebration
Friday, Feb. 17 from 9 p.m. to midnight
Celebrate Mardi Gras with Track 7 Brewing at their next Natomas After Dark event. The Bon Temps Burlesque Mardi Gras Celebration will feature popup burlesque performances, go-go dancing, a DJ, and delicious food and drink specials. Track 7 encourages attendees to get decked out in all their green, purple, yellow, sequins, and masks.
City of Trees Parade
Saturday, Feb. 18 from 2 to 8 p.m.
Grab all your purple, green, and gold and join Sacramento for an afternoon full of Mardi Gras festivities. The City of Trees Parade will once again make its way down Capitol Mall through Old Sacramento, showcasing vibrant art and performances from the local community. There will also be food trucks, local vendors, and a beverage garden all along the parade route.
Louisiana Sue Ramon's Mardi Gras Carnaval
Saturday, Feb. 18 from noon to 11 p.m. and Sunday, Feb. 19 from noon to 6 p.m.
The fun doesn't have to stop after the parade! Louisiana Sue Ramon will host her annual Mardi Gras party at the Freeway Gardens of Old Sacramento featuring drinks, traditional Louisiana foods, and live music. On Sunday, head back out to the Freeway Gardens for the Second Line Sunday Festival to close out Mardi Gras weekend.
Mardi Gras on the BLVD
Saturday, Feb. 18 from 11 a.m. to 4 p.m.
Celebrate Mardi Gras with Del Paso Boulevard's Mardi Gras on the BLVD. The event kicks off with a festive car float parade down Del Paso Boulevard. After the parade, there will be a community fair featuring food trucks, a performance by the Dirty Chops Brass Band, and a whole lot of fun.
Shannon McCabe's Mardi Gras Masked Ball
Saturday, March 4 from 6 p.m. to 1:30 a.m.
It's never too late for a Mardi Gras celebration! Head over to Harlow's to close out Carnival Season with Shannon McCabe's Mardi Gras Masked Ball, featuring a night full of beads, food, cocktails, entertainment, live music, dancing, and even a costume contest!