You've been nice all year, finished up your holiday shopping, and now it's time to treat yourself to something naughty. A stiff drink, perhaps?
This month, many Sacramento bars are dressed up to the holiday nines to give adults age 21 and up a little Yuletide cheer to brighten up the darkest nights of the year. From silver bells to a tropical winter wonderland, these local bars are the perfect spots to lift your spirits, reunite with friends, or simply get out of the house.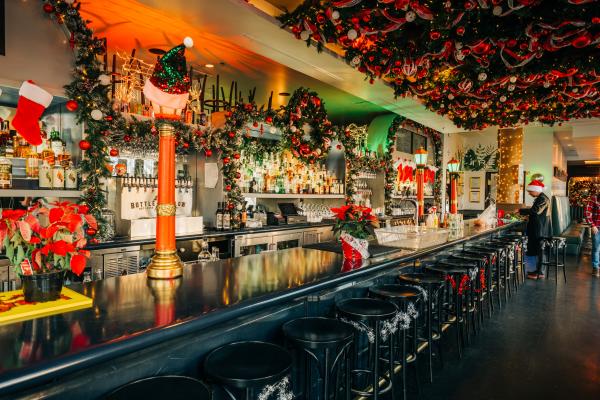 Photo by Francisco Chavira.

Bottle and Barlow
1120 R St.
Mondays-Thursdays 4pm-Midnight; Friday 4pm-2am; Saturdays & Sundays noon-2am
(Call or check social media accounts for New Year's Eve/Day hours.)
With all of the bells and ornaments adorning the ceilings at Bottle and Barlow, it's undeniable that it's Christmas time in the city, especially on trendy R Street. The part bar, part barbershop decked its halls with literally all of the gay apparel; no wall is spared from a ribbon, wreath or stocking. And we love to see it.
And their holiday drink names are as colorful as their very merry decor. Sip on The War on Krampus or a spicy Gary Busey: Ginger Dead Man now through Jan. 12.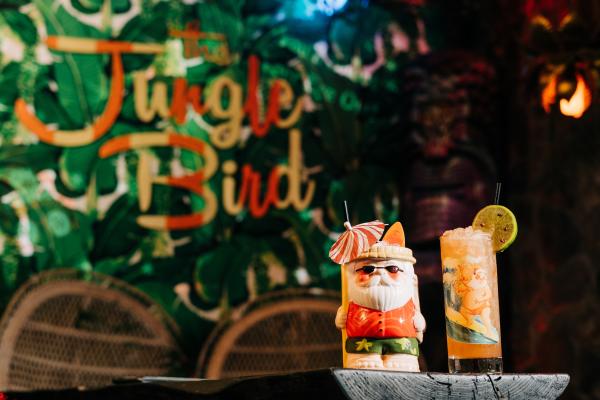 Photo by Francisco Chavira.

The Jungle Bird
2516 J St.
Tuesdays-Sundays 4pm-2am
CLOSED AFTER DECEMBER 29
"Mele Kalikimaka" is how you say Merry Christmas in Hawaiian, and for those of us who couldn't make it to the islands this year, a trip to Midtown's Jungle Bird is close enough.
Their Sippin' Santa Christmas popup features a long list of festive cocktails along with their usual tiki-inspired offerings, including a toasty Yule Log Grog and a Kris Kringle Colada served in a coconut.
Escape to the islands here in Sac before their decor says "aloha" after New Year's Day. To purchase their kitschy holiday mugs, click here.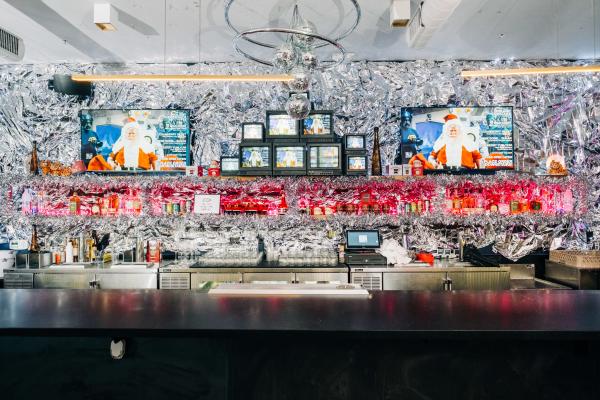 Photo by Francisco Chavira.

Tiger Bar + Restaurant
722 K St.
Wednesdays-Fridays 8pm-2am; Saturdays 5pm-2am
(Call or check social media accounts for New Year's Eve/Day hours.)
Red and green decor, you won't find it here. The Hardin hotspot ditched tradition and turned up the Disco Christmas vibes with floor-to-ceiling neon tinsel.
Tiger's drinks specials include:
-Blueberry Yum Yum (rum, edible glitter, lemon, and simple syrup)
-Wild Cider (apple cinnamon vodka, Fireball, apple syrup, lemon, simple syrup, and ginger ale)
-Gimme Some…Sugar (Bailey's, Frangelico, and Absolut Vanilla)
-Cranberry Beret (rum, cranberry juice, simple syrup, lime, mint, and club soda)
Their maximalist holiday decor will be up now through December 30.

Other local bars worth the trip (and a pic on the 'gram):
Crawdads on the River Holly Jolly Christmas Bar
Punch Bowl Social
The Red Rabbit Kitchen and Bar
 
---

Whichever spot you make the pilgrimage to, Visit Sacramento hopes that you take the time to relax and fill your cup with magical memories safely this holiday season.
To make your holidays even happier, book a hotel that keeps you close to all the holiday activities #HereInSac.
Holiday fun in Sacramento is powered by SMUD.