It's no surprise that in America's Farm-to-Fork Capital, Sacramento-area farms are hopping with visitors during harvest season. The more than 1.5 million acres of farms around the city offer a plethora of agricultural experiences for all ages. While there is quite a diverse variety of crops grown throughout the region, one of the most popular crops harvested during the month of October is, of course, the pumpkin.
If you haven't yet visited your favorite pumpkin patch this fall but still want to take the family before Halloween, take a look at our pick of fantastic farms located close to the city for that last-minute pumpkin farm experience.
Goblin Gardens Pumpkin Patch at Bastiao Farms is one of our favorites for a couple of reasons. First, it is quick and easy to get to. Located not far from the Sacramento River along El Centro Road in Natomas, Goblin Gardens is less than five miles from downtown Sacramento and an easy hop, skip and jump from I-5's Arena Boulevard exit. The other reason we love it is because of its size. This mid-size farm is large enough to offer some good fun for the entire family, but small enough as to not overwhelm sensitive youngsters. A few of the farm's activities include Sacramento's largest hay pyramid, a corn maze, a western town, haunted barn, picnic area and more. Entrance fee is $10 per person (ages 2 and under are free) with free parking.
Dave's Pumpkin Patch in West Sacramento is another great choice for last-minute pumpkin shopping and family fun. Located less than 10 miles from downtown and just across the Sacramento River, Dave's is part of the year-round produce farm, Vierra Farms. What's unique about Dave's? It's the giant jumping pillow that Dave says is actually larger than some houses. Crazy, right? Go ahead, give it a try – it's perfect for the whole family. Other activities here are a corn box (think sand box, but with corn), pig races, pumpkin chunkin' and pumpkin princesses. And once you have picked out your perfect pumpkin and had your fun, be sure to stop by the produce stand and pick out the perfect healthy dinner ingredients. Admission is $7 per person Monday through Friday, $16 per person on Saturdays and Sundays with children 2 and under, free. Parking is free.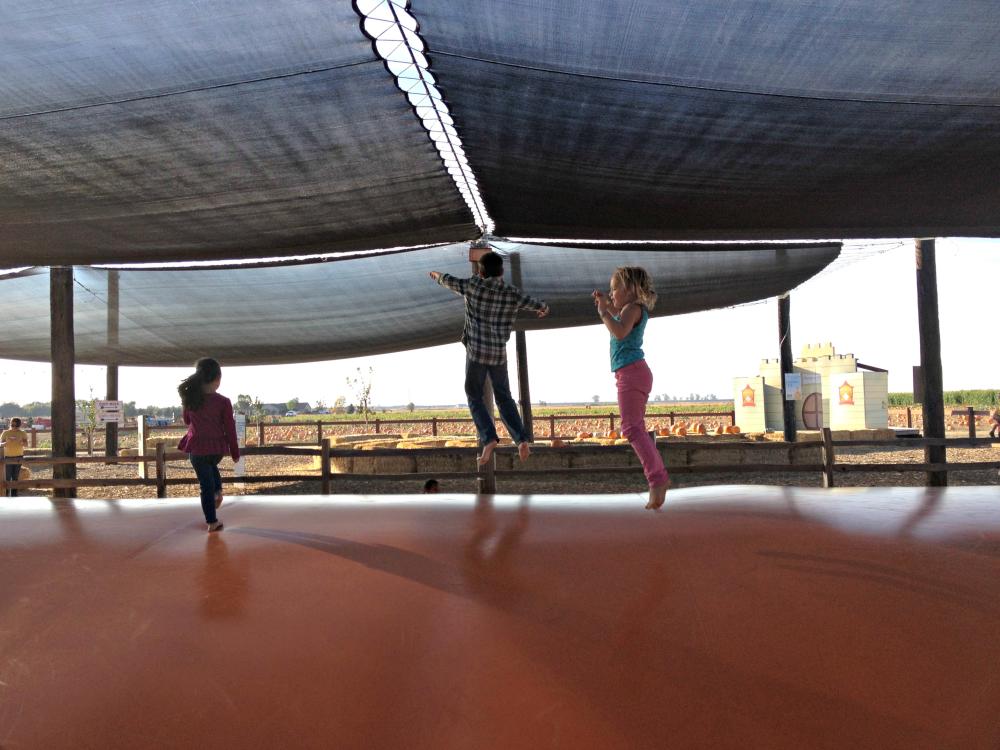 One final last-minute pumpkin farm recommendation is The Pumpkin Farm, one of Northern California's oldest pumpkin patches. Located off Old Auburn Road in Citrus Heights, this is a good bet for those who live east of downtown. The 16-acre farm offers popular fall farm activities like hayrides, train rides, a corn maze, as well as a jump castle, tower slides, haunted barn, farm zoo and go kart rides. Farm passes for adults start at $8. Passes for kids start at $12 and include one train ride and hayride, and one admission pass to the haunted barn, corn maze, tower slide and jump house. Parking is free.