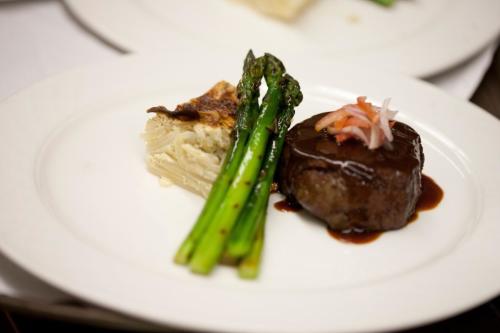 Mix and mingle at Sacramento's famed Sutter Club while sampling regional varietals alongside the winemakers for the inaugural Taste of Summer Winemakers Dinner.
Tickets include pre-dinner wines and light appetizers, a multi-course dinner created from fresh, local ingredients and paired with regional wines selected by the Sutter Club Sommelier. Cocktails are available for purchase.
The event kicks off Friday, June 5, at 6 p.m., and dinner is served at 7 p.m. The dress code is relaxed attire, and the dinner is only for the 21-and-older crowd.
Menu
Passed Appetizers
Seasonal Vegetable Risotto with Gapacho: Summer still life of heirloom tomatoes, cucumber and melon with extra virgin olive oil and cheddar wafers
"Golden West" Roasted Beef Tenderloin: With caramelized onions, pole beans, Shaft's blue cheese and balsamic vinegar-port jus
Dessert Medley: Sweet corn crème brulée, lemon mascarpone "Ice Box" cake with local pluot-peach compote, spiced walnut biscotti
No-host bar available
Local wines will be paired with each course.
Tickets are $125 and can be purchased here. A combination ticket for the dinner and Sunday's Bubbles & Berries Brunch can be purchased for $165.