Photo via Visit Sacramento.
Lather on your sunscreen and explore the many "hot" events taking place in Land Park and Curtis Park this August with Sacramento365.
 
---

The quaint, residential tree-lined streets of these Sacramento neighborhoods are best known for their namesake greenspaces – William Land Park and William Curtis Park.
Along with being the perfect place for a picnic or a jog, William Land Park is where families come to play – the 166.5-acre park is home to the Sacramento Zoo, and amusement parks Fairytale Town and Funderland, the William A. Carroll Amphitheatre, and a nine-hole golf course.
A short walk east from its more renowned neighborhood, William Land Park, William Curtis Park is the perfect locale to get away from the crowds. Not much wider than a soccer field, this long park runs about 10 blocks. You'll see residents walk their dogs, jog, or just relax on benches along unpaved paths.
Other notable landmarks include the Sacramento Historic City Cemetery, the Sierra 2 Center, and Sacramento City College.
While filled with Craftsman bungalows and Tudor Revival homes, there is no shortage of nearby Sacramento foodie favorites (see below).
Just minutes from downtown, Land Park and Curtis Park are accessible by Highway 50, Highway 99 and Interstate 5, and various Sacramento Regional Transit bus routes and the Blue Light Rail Line.
 
Get Your Grub On at these Local Businesses:
Buffalo Pizza & Ice Cream
Café Dantorels
Dad's Kitchen
Florez Bar & Grill
Freeport Bakery
Gunther's Ice Cream
Lalo's Restaurant
Marie's Donuts
Masullo Pizza
Queen of Sheeba Ethiopian Cuisine
Riverside Clubhouse
Sampino's Kitchen at Joe Marty's
Taylor's Kitchen
The Real Pie Company
Tower Café
Vic's Ice Cream & Café

Say Cheers at these nearby Land Park Watering Holes:
Bike Dog Brewing Company
Hideaway Bar & Grill
New Helvetia Brewing
Pangaea Bier Café
Two Rivers Cider
Track 7 Brewing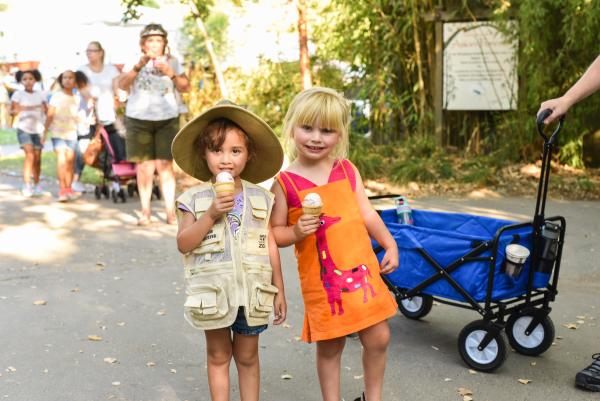 Photo courtesy of the Sacramento Zoo.
Foodie Fun in the Sun:
Looking to tantalize your taste buds? These neighborhoods are home to some of the most eagerly-awaited food festivals of the year this August:
Sacramento Japanese Bazaar
August 10 & 11 | Buddhist Church of Sacramento
Sat & Sun 11am-8pm
Underneath colored lanterns and shade tents, you'll find an army of volunteers preparing Japanese comfort food right before your eyes. From award-winning udon, fresh poke bowls, succulent teriyaki chicken, teriyaki beef sandwiches, to sushi, there is a delicious bite for everyone at the free two-day festival.
Performances by Taiko drummers, singers, folk dancers from across the region will have you thinking you're on the streets of Kyoto. And don't forget to venture inside the Church to try your hand at Japanese calligraphy and test your luck at the fest's popular game rooms.
Sacramento Banana Festival
August 10 & 11 | William Land Park
Sat 10am-7pm; Sun 10am-5pm
Travel around the world without leaving William Land Park at this festival dedicated to the a-peel-ing fruit. The family-centric event celebrates the countries where bananas grow through music, dance, and of course, food. Expect to find food truck grub with a Caribbean, Latin America, African, and Pan-Asian flair.
The annual festival raises funds for arts education.
Tales and Ales Brewfest Fundraiser
August 24 | Fairytale Town
Sat 5pm-9pm
Mother Goose is letting loose! Adults can help Fairytale Town ring in its 60th birthday with unlimited pours from local craft breweries, while kiddos can sip on complimentary root beer floats in Mr. McGregor's Garden.
Local food trucks Buckhorn Grill, Cecil's Taste, Post Oak Barbeque, and Slider Nation will also be onsite with food and beverages.
Ice Cream Safari
August 17 | Sacramento Zoo
Sat 5pm-8pm
Waffle cones, sundaes, and floats, yes, please! Have ice cream any which way you want it at Sacramento Zoo's annual fundraiser. Make sure to hello all of the zoo residents throughout the night  -- you never know which ice cream treats will be around the corner!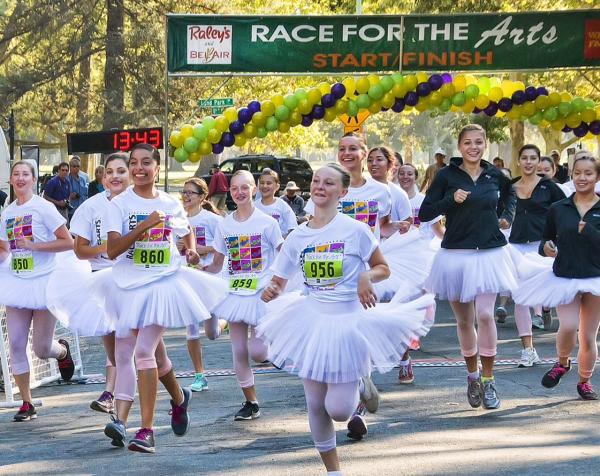 Photo courtesy of Race for the Arts.
For Art's Sake
Celebrate Sacramento's local art scene by heading to the parks that define these distinct neighborhoods later in the month:
Race for the Arts
August 24 | William Land Park
Sat 8:10am~Noon
Grab your running shoes and take to shady William Land Park for Race for the Arts! Serious runners and casual walkers alike will love the performances dotted throughout the racecourse.
A free arts festival, showcasing the talents of area visual, performing, cultural, literary and culinary arts organizations, will highlight the morning fun.
Curtis Fest Artisan Fair
August 25 | William Curtis Park
Sun 10am-4pm
Peruse goodies from over 75 local artisans under the beautiful canopy of trees at Curtis Park at Curtis Fest. Live music, food trucks, a kids zone and a pet refreshment station makes this a great way to finish out the summer.
This free event is open to the public and followed by Music in the Park.
---

If these selections aren't enough for you then check out our Make it a Night page on Sacramento365 or Visit Sacramento's Field Guide! Whatever you choose to do, be sure to use the hashtag #Sacramento365 to share your adventure with us.