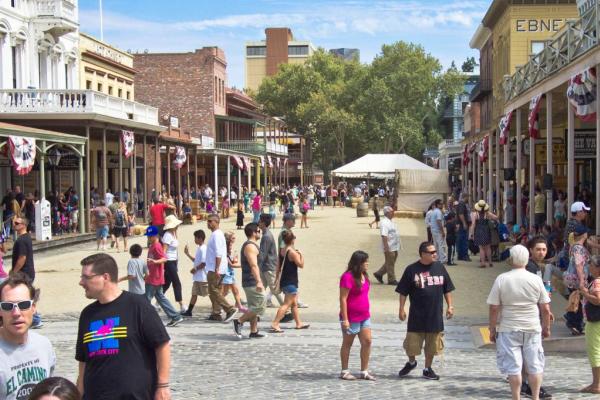 Visit Old Sacramento this Labor Day Weekend for one of the best family-friendly events of the year – Gold Rush Days. This four-day festival kicks off Sept. 4, 2015, and turns historic Old Sacramento into a scene straight out of the 1850s, with costumed reenactors, gold panning, great food and live music.
Dirt will cover some streets to bring the city back to the heyday of the Gold Rush, and it's great educational opportunity for kids and adults alike – and it's fun!
A watermelon-eating contest, Save Mart farmers market and a beer garden are all a part of the fun, and regular street theater, old-time baseball and carriage rides round out the experience.
Find out what life was like while sipping a sarsaparilla as a historic train chugs by and a child shouts with excitement as she finds a piece of gold in her pan, then round out the night by listening to live music, and just walk around taking in the ambiance.
Pop into Old Sacramento shops for unique gifts, candy and other snacks, or sit down and have lunch at one of the many Old Sacramento restaurants. Feeling thirsty? In addition to the Gold Rush Days beer garden, Old Sacramento is home to plenty of saloons where you can find cold local beer, wine and cider.
Getting Here
Gold Rush Days is located in Old Sacramento, and parking is available in the garage at Second and I streets, as well as other parking lots and garages in the immediate area. The closest freeway exits are Q Street and J Street off Interstate 5.
Why drive when you can take a train? Amtrak's Capital Corridor train is an ideal link between Sacramento and the Bay Area that lets you avoid traffic and tolls. The Sacramento Valley Station is conveniently located a short walk from Old Sacramento.
Amtrak is currently offering a "Take 5" promotion, which means that anyone who buys one full-fare train ticket can take up to five companions for $5 each, each way. Trains come frequently, with 11 per day on weekends. Book your Take 5 fare online today.
Staying Here
Check out hotel deals here.
More Information
Get more information at the Sacramento Gold Rush Days website.