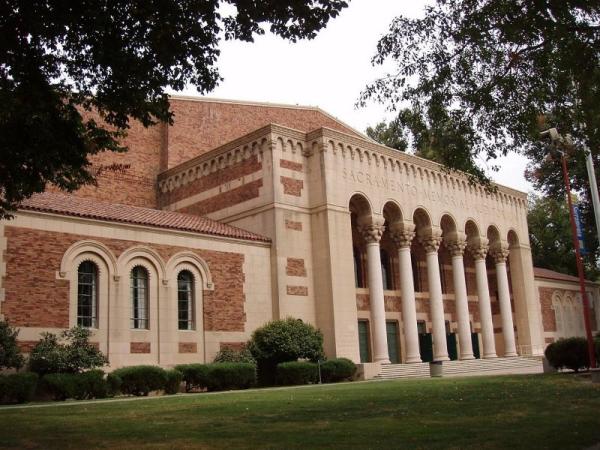 Sacramento's Memorial Auditorium opened in 1927 as a tribute to residents who gave their lives in service to our country and quickly became the most popular music and entertainment venue in town. Nearly 90 years later, one of Sacramento's most-recognized buildings continues to be one of the best places to host an event. Here are five reasons why meeting and event planners love Memorial Auditorium.
1. History. The auditorium welcomed Eleanor Roosevelt in 1960, was the live recording studio for the Beach Boys' first live album, Concert, in 1964, and hosted Arnold Schwarzenegger's California gubernatorial inauguration in 2003. The building was placed on the National Register of Historic Places in 1978 and completed a major renovation in 1996. Today, Memorial Auditorium continues to be one of Sacramento's most sought-after event venues.
2. Versatility. Memorial easily hosts a variety of events, large and small, simple and elegant. This unique venue has seen it all. From meetings and conferences to weddings and commencements, sporting events and concerts, the ability to transform into a venue fit for any occasion makes this building the city's crown jewel.
3. Location. Part of the Sacramento Convention Center Complex, Memorial Auditorium is located on the cusp of Downtown and Midtown, just one block shy of the convention center and Community Center Theatre. It sits within a few blocks of four of the city's major hotels including the Hyatt Regency Sacramento, Sheraton Grand Sacramento, and the Citizen Hotel as well as several of the city's farm-to-fork restaurants.
4. Food. As the Convention Center Complex's exclusive caterer, Classique Catering, voted the best Sacramento caterer by Sacramento Magazine 12 years running, delivers a truly unique, fresh and delicious meal to any event that comes their way. Does your group have special dietary needs or specifications such as Kosher or gluten free? No problem! Classique will work with you in creating a menu that delivers a delicious meal to your attendees. The food is always fresh, and the Classique team is always a joy to work with.
5. Awards & Recognition. Memorial Auditorium has received many awards and recognitions over the years. The venue has been named one of five national winners of "Protecting America's Treasures" by the National Trust for Historic Preservation, received the GE Edison Award for exterior lighting, as well as the Award for Excellence in Environmental Design.
Whatever your conference and event needs, Sacramento's Memorial Auditorium can accommodate your group. Take a look at some of the unique events that have taken place here. For more information on booking this venue, click here.