Photo courtesy of the Del Paso Boulevard Partnership & BIA.
Artsy. Gritty. Resilient. North Sacramento is just getting started. Once home to industry and California's first Kentucky Derby winner, the sprawling area is now quickly becoming a destination for recreation and the Capital City's indie arts scene.
On any given day, you can find unique and hard-to-find treasures at Antique Annie's, Schiff's Estate Sale Building and every Saturday at Uptown Market on the Boulevard. And while small in size, the talent found at Big Idea Theatre is hard to contain. Avant-garde productions are often test-driven at the playhouse.
In the winter, lace up your skates for a twirl around the outdoor rink, Iceland. But note, there's no season needed for a reason to boot-scootin' boogie at Stoney's Rockin' Rodeo.
Towards North Highlands, see how new investment has breathed new life into the former McClellan Air Force Base – the base is now a hub for startups, conferences, and hospitality. Aerospace Museum of California is also on-site, displaying interactive exhibits on aviation and aviation history accompanied by numerous aircraft dating back to World War II.
Gibson Ranch is a sprawling park that hosts concerts and provides an excellent setting for family reunions, horseback riding or just a lazy day lounging in the sun.
Golfing is also popular in the area at Cherry Island and Haggin Oaks golf courses. Haggin Oaks is so popular that it's driving range stays open 24-hours-a-day during the summer.
North Sacramento can be accessed via Capital City Freeway (Business 80) and Interstate 80, Light Rail's Blue Line and several SacRT bus lines. Fore more information on Sacramento neighborhoods, click here.
 
Get Your Grub On at these Local Businesses:
Adalberto's Mexican Food
Aria-Afghan Restaurant
Chevere
Flip.n.Shake
Lil Joe's: Over Million Steaks Sold
Sammy's Restaurant
Sol Cubano
Uptown Pizza Kitchen
Woodlake Tavern

Say Cheers at these nearby Land Park Watering Holes:
King Cong Brewing Company
Stoney's Rockin' Rodeo
Son of A Bean
The Bolt
Ongoing Events:
Aerospace Museum of California
Big Idea Theatre
Cherry Island Golf Course
Cherry Island Soccer Complex
Haggin Oaks Golf Course
Iceland Ice Skating Rink
McClellan Conference Center
Stoney's Rockin' Rodeo
Uptown Market on the Boulevard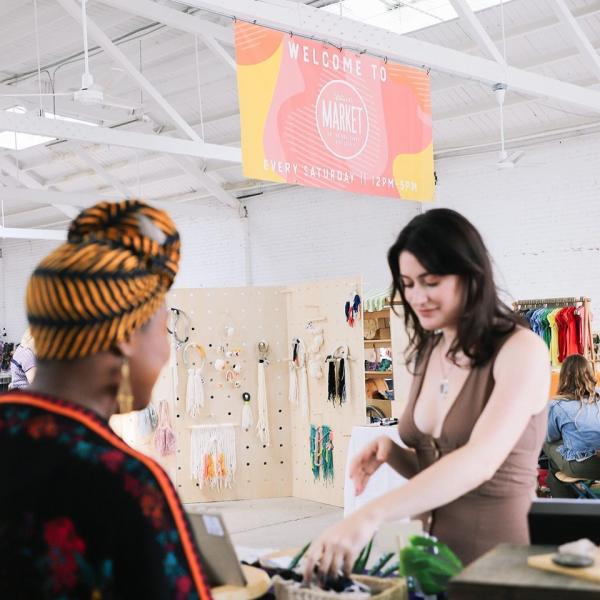 Photo courtesy of RiverCity Marketplace.
Taste of North Sacramento
The Artisan Building
September 7
Sat 5pm-7pm
With tastings offered by over a dozen restaurants and eateries – Sammy's Family Restaurant and  Lil Joe's  included --  the Taste of North Sacramento is a great start for your neighborhood adventure.
The delectable fun raises money to support additional and continual programs at the North Sacramento/Hagginwood Library.
Uptown Market on the Boulevard
September 7, 14, 21 & 28
Sat Noon-5pm
Sacramento's one-and-only weekly local makers market showcases unique, artisan wares in the heart of Old North Sacramento.

HuskyShows Presents West Coast Jam
McClellan Conference Center
September 7
Sat 7:30pm-11:30pm
You won't want to miss a bop!
Coming off two successful tours with a revolving ensemble of heavy-hitting jazz heads, Richard Elliot will rock the former military. Longtime collaborator Peter White and vocal/percussion group DW3 join Richard Elliot and his three-piece horn section.

Preservation Sacramento Historic Home Tour
Woodlake Park
September 15
Sun 10am-4pm
Take a look inside the homes of Woodlake with Preservation Sacramento. Noted for its Tudor Revival cottages and mature trees, the neighborhood, developed in the Roaring '20s, is an architectural haven hidden between Highway 160 and Arden Way.
This will also be the first-ever home tour of the Woodlake neighborhood!
Burly Backyard BBQ
Burly Beverages
September 21
Sat 2pm-8pm
Hang out with the cool kids at Burly Beverages! Like any great party, there will be great cocktails, music, and delicious food. There will even be live art installations for good measure.
Skeleton Crew
Big Idea Theatre
September 27-October 26
Thurs-Sat 8pm
Powerful and tense, Skeleton Crew is the third of Dominique Morisseau's Detroit cycle trilogy. The plot:
At the start of the Great Recession, one of the last auto stamping plants in Detroit is on shaky ground. Each of the workers have to make choices on how to move forward if their plant goes under. Shanita has to decide how she'll support herself and her unborn child, Faye has to decide how and where she'll live, and Dez has to figure out how to make his ambitious dreams a reality. Power dynamics shift as their manager Reggie is torn between doing right by his work family, and by the red tape in his office.
---
To discover even more Sacramento area events, visit Sacramento365.com. And to learn more about Sacramento's many unique regions, click out the Visit Sacramento Neighborhood Map here.