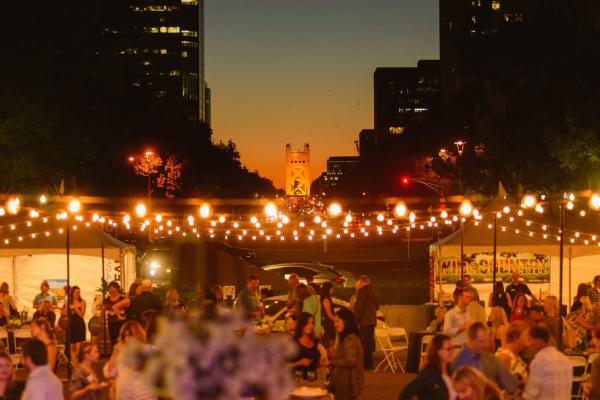 The sun was beaming through Tower Bridge, setting its already-golden hue fully aflame as we approached the west steps of the State Capitol for the Legends of Wine tasting event, part of what makes Sacramento America's Farm-to-Fork Capital. A light breeze twirled a tendril of my hair as I turned toward the venue, catching sight of a million tiny lights dangling overhead. The backdrop - a looming ornate white structure with 150 years of history framing this locally grown and yet elegant affair.
At this point the event already had enough sensory appeal to put me under its spell. And after a short stint in a fairly swift line we were handed wine glasses and baguettes, unknowingly entering into a world of culinary pleasures, ethereal extras and breezy delights. 
The party, it seemed, was already in full romantic swing, and yet there was plenty of space for everyone, and certainly plenty of incredible wine. In fact, there was wine to the left of me, wine to the right, and tables in between with scrumptious cheeses, nuts and fruit. Where to begin, we wondered as we wandered farther in? Turns out there was no wrong turn to take – just luscious wines and small bites that melted like velvety little gems in my mouth.
This was not your ordinary wine tasting event, but a chance to discover more about some of the region's most celebrated – and award-winning varietals by actually talking with the representatives and experimenting with the pairing options at hand. And perhaps because it occurred in such a unique location – in the heart of downtown Sacramento with the State Capitol to the east, Sacramento River to the west, and blanket of starry lights overhead – I couldn't help but feel really fortunate to be part of something so special. 
As pleasant music from a piano rolled from atop the concrete steps and flowed throughout the amiable crowd, and dusk was falling ever-so-slowly, we sipped, socialized and savored the immersion. Even two of Sacramento's internationally recognized culinary powerhouses - Darrell Corti and David Berkley - took to the stage bringing an air of nostalgia with them that rounded out this magical evening like a perfectly balanced wine. I think it's safe to say that I'm still a little under its spell and looking forward to this year's event.
This year's Farm-to-Fork Legends of Wine takes place Friday, Sept. 16, 2016 in the same enchanting place. Tickets are available online before the event.
For more information on events taking place during the 2016 Farm-to-Fork Celebration, click here.