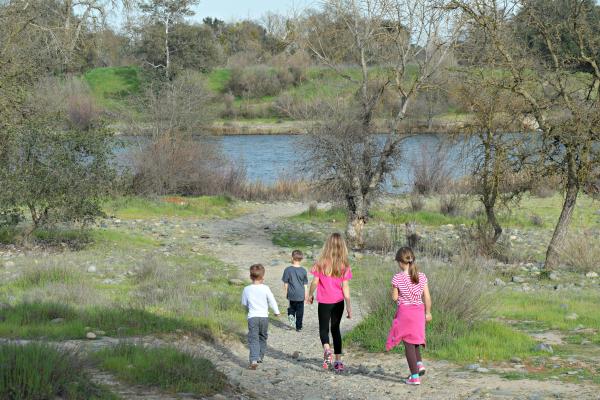 I picked the kids up from school recently and we headed straight for the Effie Yeaw Nature Center at Ancil Hoffman County Park in Carmichael, located just 11 miles from Downtown Sacramento.  With the exception of a $5 parking fee, access to the Nature Center is free and donations are encouraged.  We were pleasantly surprised to find that the Nature Center was not very crowded and the weather was perfect for an afternoon hike. 
First, we took our time walking around the inside of the Nature Center, where the kids were mesmerized by not one, but two beautiful owls as well as some reptiles for good measure.  We even got to visit with Skye, a red-shouldered hawk, outside of his enclosure since he had made a recent attempt at an escape and his handler was putting him back.  The kids loved seeing these animals up close and personal! 
Also inside the Nature Center, the kids learned about many different types of species native to California through many interactive exhibits.  They put their arms into a display demonstrating the actual size of a California Condor's wingspan and were shocked at how large it was. 
Outside, as we began to make our way onto one of the self-guided trails, a jackrabbit scurried across our path.  As we strolled along, gorgeous blue butterflies whizzed by our heads.  The kids were simply in heaven in this serene preserve.  We took an easy hike down to the American River and were greeted by some ducks.  On our way back, we soon discovered that we were surrounded by at least a dozen deer.  My 8-year-old summed up the experience as "the best day ever."
If you don't want to be left completely to your own devices, the Nature Center offers several nature walks and presentations on the weekends.  For a calendar of upcoming events, click here.  Also offered are spring and summer camps with fun themes like "Squirrel Squad" and "Bird's the Word."  These educational camps are sure to deliver lots of fun. We will definitely be back for more exploring another day.
Post and photos by contributing author Kara Keister