Sacramento may be light on snow at Christmastime, but the city isn't light on holiday traditions and celebrations. From Old Sacramento to Sutter's Fort, there are plenty of unique events to help you celebrate the holidays. Here are eight of our favorite Christmas-themed family events that are sure to put you in the holiday spirit. 
1. Magical Christmas Train. Hop aboard the Sacramento River Train for a magical old-fashioned train ride along the Woodland Branch, a 14-mile journey through open farmland, over the Fremont Bridge, and through the Yolo County Wildlife Refuge. Along your journey, your kids will enjoy cookies, hot chocolate, spectacular views, and of course a visit from Santa and his elves. www.sacramentorivertrain.com
2. Macy's Theatre of Lights. You'll want to bring the family down to Old Sacramento for this free, theatrical telling of the famous 1823 Christmas poem "A Visit from St. Nicholas", better known as "Twas the Night Before Christmas." This 20-minute production truly is a unique holiday tradition that can only be found in Sacramento. Set among the historic buildings of Old Sacramento, audience members of all ages will be delighted to learn and see through dramatization, some of the city's earliest history, mingled with the nostalgia of Christmas' past through Twain's beloved story. The production is presented most evenings between Wednesday, Nov. 23 through Dec. 24 at 6:15 pm and 7:45 pm. For more information on dates and schedule, see www.oldsacramento.com.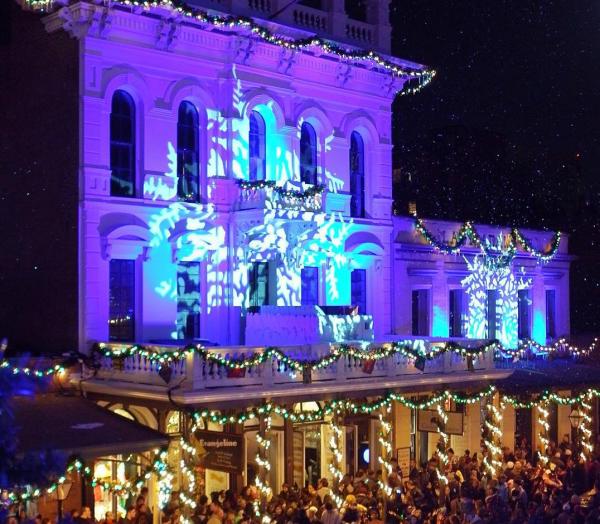 3. A Simple Emigrant Christmas. At this Hands-on-History event at Sacramento's first settlement, Sutter's Fort, visitors can experience what Christmas was like for residents of the Fort in it's early days. Visitors will step back into the 1840s to experience holiday traditions and cultural activities of the many emigrants who passed through Sutter's Fort's gates. Kids will have the opportunity to make holiday ornaments including snowflakes, corn husk angels and bird nests, make Christmas cards, decorate the Christmas tree and sing carols with fort musicians. Saturday, Dec. 10, from 10 am to 5 pm. www.suttersfort.org
4. Fairytale Town's Winter Wonderland. Sacramento's most iconic children's park, Fairytale Town, has a tradition of dazzling kids with its magical holiday decor. For 8 days in December, the storybook park will be transformed into a winter wonderland that includes a Peppermint Forest, Gum Drop Mountain, Candy Castle, a dazzling display of lights starting at dusk each night, snowfall at the Mother Goose stage, Victorian carolers, hands-on activities and visits from Santa on the weekends. Dec. 8-11 & 15-18,  from 1 pm to 7 pm. www.fairytaletown.org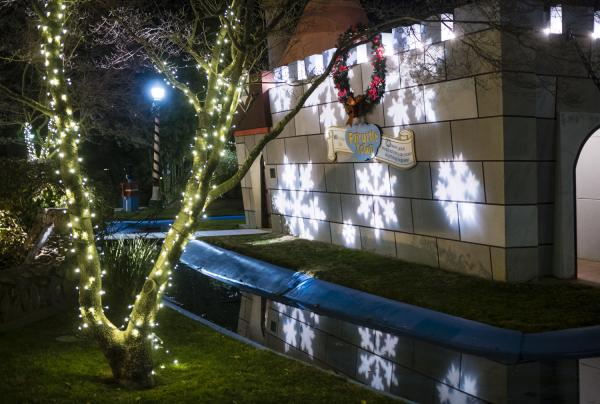 5. Santa Parade. Sacramento's Santa Parade has been entertaining spectators gathered around California's State Capitol since 1983. A good old-fashioned parade, this holiday event has all of your usual parade favorites - marching bands, vintage vehicles, magical floats, baton twirlers - in addition to the stars of the parade, Santa and Mrs. Claus. The parade route follows west on L Street starting at 15th Street, turns south on 10th Street and makes it's way to N Street, where it heads east, finally ending back at 15th Street. Saturday, Dec. 10 at 10 am. www.sacholidays.com
6. Global Winter Wonderland. Hundreds of massive Chinese lanterns are on display at Sacramento's Cal Expo, home to the California State Fair. Now in its third year in Sacramento, Global Winter Wonderland is truly a sight to see with colorful, detailed, giant silk lanterns that light up the night. Visitors will be transported to a winter wonderland as they walk through Santa's Village, Snow Land and Toy Land. Once they've gotten their winter fix, they'll move on to Candy Land, Fantasy Land and Under the Sea. In addition to the main attraction, there are carnival rides (the Ferris wheel will offer the best view of the lanterns), an ice skating rink, holiday market, international food vendors, and free entertainment - the Circus of Light, fire-dazzling action on ice. Runs Nov. 21 through Jan. 8, however, be sure to check the event schedule here, as the days and hours of operation vary depending on the week. www.globalwinterwonderland.com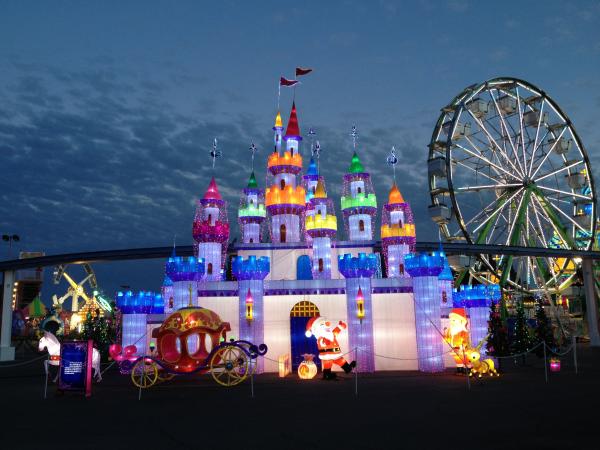 7. Holiday Magic at the Sacramento Zoo. Humans aren't the only ones who like to get presents at Christmastime - apparently animals do, too! On this special day, the Sacramento Zoo showers gifts upon the animal residents, inviting the humans to watch. Visitors will be delighted to watch the Orangutans open their stockings to find treats, see the snow leopard enjoy its frozen presents embedded in ice or watch the African Lion open his holiday-themed pinata and boxes to find spices. Dec. 10, from 10 am to 4 pm. Visitors will receive $1 off admission by donating a non-perishable food item for the food drive. For a full schedule animal gift openings, visit www.saczoo.org.
8. Holiday Ice Rink. The Downtown Sacramento Ice Rink has provided skating fun for Sacramento residents and visitors for over 25 years. Located in the heart of downtown at St. Rose of Lima Park and just steps from the city's new Golden One Center, Sacramento's holiday ice rink offers skating lessons, themed sessions (check out Train Day on Dec. 3 and Santa's village on Dec. 10), skate rentals, lockers, hot chocolate and more. Open November to January. www.godowntownsac.com