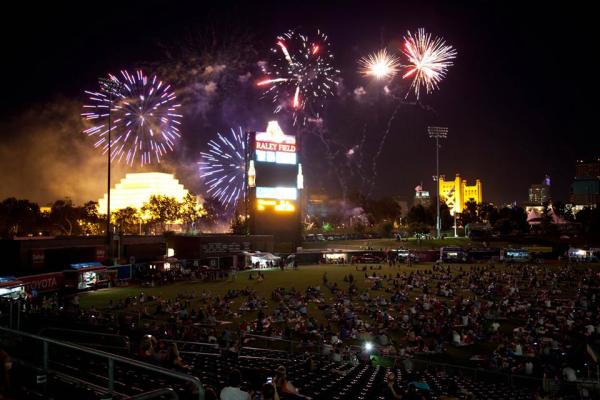 Fourth on the Field photo courtesy of Raley Field.
This Saturday marks the 239th birthday of the United States of America. Not sure how to celebrate our nation's big day? Sacramento365.com searched high and low to find the best Independence Day events happening in the Sacramento region this weekend.
With fireworks, parades, and even a bit of croquet, you are guaranteed to have plenty of patriotic fun!

Get in the Spirit Early
Folsom Pro Rodeo
Dan Russell Rodeo Arena; Thurs-Sat 6pm
This annual tradition is a tribute to the cattle ranches which used to be spread across the Folsom foothills. Before the official start of the Folsom Pro Rodeo, don't miss out on the cattle drive down historic Sutter Street.
Rancho Cordova Fourth of July Celebration
Hagan Park; Fri 4pm-11pm, Sat Noon-11pm
The fun starts a day early with a carnival, concert, and fireworks mini-show. On the Fourth start off with a brisk 5K run, watch a Fourth of July Parade, then spend the rest of the day in Hagan Park for more family-friendly activities.

Red, White, and Brews
Old Sacramento; Fri 6pm-Midnight
Be the first to celebrate the Fourth by having a little fun on the Third! Ten participating Old Sacramento bars are offering select American beers for only $3.
Those Flashing Lights:
19th Annual Salute to the Red, White, and Blue
Elk Grove Regional Park; Sat 4pm-10pm
Elk Grove's premier Fourth of July celebration is a patriotic salute to the birth of the nation. The festivities begin in the evening with live music and food – and ends with a bang!
Independence Day Celebration
Cal Expo; Sat 5pm
Cal Expo will join the City and County of Sacramento and CBS Radio to produce the largest-scale pyrotechnics display in the area on the Fourth of July.
Fourth on the Field
Raley Field; Sat 6pm-10pm
The ballpark is bringing back the feel of a neighborhood block party with delicious food trucks, live music by Nunchuck Taylor, and a dazzling display of fireworks over the Sacramento River.
Ring in the Fourth Uniquely
4th of July Picnic and Croquet Tournament
Old Sacramento; Sat 11am-2pm
Play ball? Join the Sacramento History Museum's Living History re-enactors as they celebrate Independence Day in historic style.
Celebrating American Music
Midtown BarFly (formerly Club 21); Sat 9pm
Want to avoid the big crowds while celebrating America this year? Join the Midtown Moxies burlesque troupe for an intimate evening with their very own brand of fireworks.
Sacramento Moonwalk: In Loving Memory of Michael Jackson
Harlow's; Sat 9:30pm
Hosted by Reggae star Xsample, this contest will give $500 to the best Moonwalk contestant and $500 to the best Michael Jackson impersonator.

To find even more Fourth of July festivities, visit the Sacramento365.com Holiday Events page.

Find more events this week and every day of the year at Sacramento365.com.
Keep up with Sacramento365.com