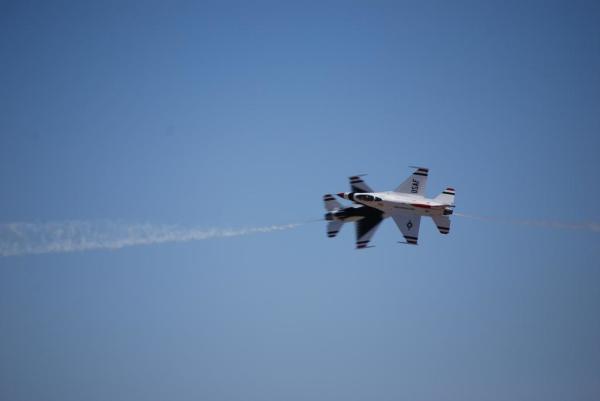 The California Capital Airshow roars into the Sacramento region Oct. 2-4 for its 10th anniversary show, featuring two jet teams – the US Air Force Thunderbids and the Canadian Showbirds – and for the first time, a night show.
Held each year at Mather Airport in Rancho Cordova, about 20 minutes from downtown Sacramento, the California Capital Airshow is a thrilling day of family fun.
Aerobatic performances, high-speed fly-bys, the US Navy F/A-18 Hornet team and classic aircraft such as P-51 Mustangs, DC-3s and a B-17 Flying Fortress showcase almost a century of aviation.
On the ground, a C-5 Super Galaxy cargo plane will be on display and open for tours. It's the largest western military plane ever built, and the crew will be on-hand to answer questions.
Another massive aircraft that will be on display on the ground is the B-52 Stratofortress, which gained fame during the Cold War and saw extensive use in Vietnam.
The airshow is a fun and educational experience for kits, as there will be interactive booths where children can learn about what makes a plane fly and discover what it takes to pursue a career in the aerospace industry.
Get Discount Tickets Now
Adult general admission tickets are on sale online right now. Visit the ticket page for the California Capital Airshow for more information and to purchase them.
Planes Light up the Night Sky
To celebrate the 10th anniversary of the show, there will be a night show on Friday, Oct. 2. After the Canadian Snowbirds perform, there will be a catered farm-to-fork dinner at sunset followed by multiple performances of aircraft with flashing lights and pyrotechnics flying off of them. The show culminates with the wall of fire and a fireworks show.
Get night show tickets today, before they sell out.