Photo courtesy of Unseen Heroes.
This March explore off the beaten path and discover the gems hidden throughout Sacramento's Broadway and Oak Park neighborhoods.
Broadway has long been an eclectic, commercial corridor, home to best ethnic food in the city as well as the historic Old City Cemetery, where many of Sacramento's most famous historical figures are buried.
Whether the food you're looking for is Thai, Chinese, Nepalese, Ethiopian, Vietnamese, German, meaty, vegetarian or vegan, the corridor won't disappoint. And it's not just food. Local breweries Bike Dog and New Helvetia Brewing Company are perfect spots to delve into Sacramento's thriving craft beer scene while having the feel of a cozy neighborhood spot. If peace of mind is what you're after, find your bliss inside the white-washed walls of Asha Urban Baths.
Resilience best describes Sacramento's first suburb, Oak Park. After decades of remissness, one of Sacramento's largest neighborhoods is bouncing back through creative reinvestment.
While streetcars no longer crawl up and down this palm tree-lined section of Broadway, the main drag is bustling on any First Friday or sizzling Gather: Oak Park summer night. (If you time it right, Oak Park is also the perfect place to capture a quintessential California sunset).
For farm-fresh produce, shop local at Oak Park Farmers Market at McClatchy Park. For entertainment, catch an indie band or cult film at the historic Colonial Theater on Stockton Blvd. North Oak Park's Brickhouse Gallery and Art Complex and historic Guild Theater host numerous film festivals, live performances, and art shows throughout the year.
Oak Park neighbors the UC Davis Medical Center and Shriners Hospitals for Children.
Broadway and Oak Park are accessible by Interstate 5, Highway 50, Highway 99 and by Sacramento Regional Transit's Light Rail Blue line and various bus routes.

Annual Events:
Throughout the Year: Sunday Farmers Market on 8th and W Streets
Throughout the Year: Sacramento Antique Faire on 21st and X Streets
May: Sacramento Asian Pacific Film Festival at Guild Theatre
May-October: Oak Park Farmers Market at McClatchy Park
May-October: Gather: Oak Park at 34th and Broadway
September: Sacramento Black Book Fair at Women's Civic Improvement Club
Late October- Early November: Dia de Los Muertos Oak Park on Broadway between 32nd and 36th Streets

Ongoing Events:
Brickhouse Gallery & Arts Complex
Café Colonial/ Colonial Theatre
Guild Theater
Historic City Cemetery
Instituto Mazatlan de Bellas Artes
Sol Collective
STAB! Comedy Theater
Sacramento Food Bank and Family Services
Tower Theatre Film Screenings
Restaurants:
Andy Nguyen's Vegetarian Restaurant
Anna's Vegan Cafe
Boon Boon Cafe
Chada Thai Cuisine
Fixins Soul Kitchen
Iron Grill
Jamie's Bar & Grill
Kathmandu Kitchen of Sacramento
La Venadita
Los Jarritos
Luigi's Pizza Parlor
Ming Dynasty
Miso Japanese Restaurant
Queen of Sheeba Ethiopian Cuisine
Sampino's Kitchen at Joe Marty's
Selland's Market Café Broadway
Taqueria Maya's
Tower Café
T & R Taste of Texas Barbeque

Bars and Breweries:
Arthur Henry's Supper Club & Ruby Room
Bike Dog Broadway Taproom
New Helvetia Brewing Company
Oak Park Brewing Co.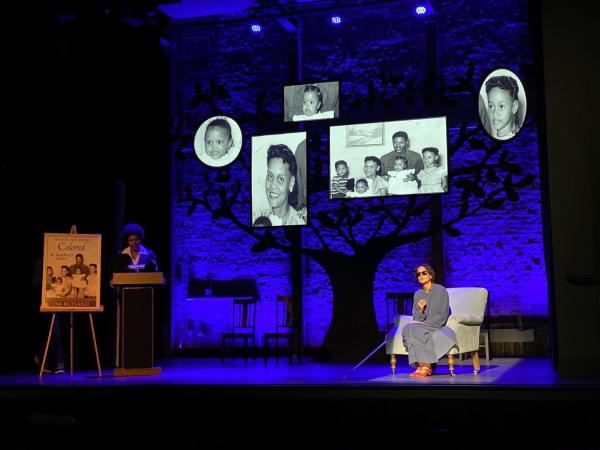 When We Were Colored photo courtesy of Guild Theater.
Beginner-Level Street Soccer 4x4 Matches
Oak Park Community Center
Through March 31 | Tuesdays 6:15-7:30pm
Are you interested in learning street soccer and improving your skills? This Street Soccer USA series is designed for both the beginner soccer star and the swiftest player on the pitch.
Note: Please wear tennis or turf shoes.
When We Were Colored: A Mother's Story
Guild Theater
Through March 14 | Wed 2pm; Thurs 7pm; Fri 8pm; Sat 2pm & 8pm; Sun 2pm
Based on the memoir by Eva Rutland, When We Were Colored: A Mother's Story tells the story of a black family that moves to Sacramento in 1952. What is it like to be the first black family in an all-white neighborhood? Or the only little "colored" girl in your third-grade class? The production is a poignant story of an ordinary black family living through extraordinary times in Sacramento and America.
Classy Hippie High Tea
Classy Hippie Tea Co.
March 19 | Thurs 7pm
Come and enjoy an evening of elegance, style, and a whole lot of class on Broadway! This unforgettable dining experience pairs healthy eating with live entertainment on select Thursdays of each month.

Day of Reckoning
Colonial Theatre
March 21 | Sat 7pm
From smack talk to smackdowns, Pro Wrestling Alliance stars will have you on the edge of your seat at Day of Reckoning.
Carl Payne
Guild Theater
March 27 | Fri 8pm
Laugh out loud in North Oak Park. Carl Payne is best known for his role as Cole Brown on the FOX sitcom Martin and his recurring role as Theo Huxtable's best friend Cockroach on the NBC sitcom, The Cosby Show.
Spring at Fruit Ridge Community Collaborative
Fruit Ridge Community Collaborative
March 28 | Sat Noon-3pm
Come enjoy fun activities, food and free community resources at this community festival. This family-friendly event features an egg hunt, the Easter Bunny, music and so much more!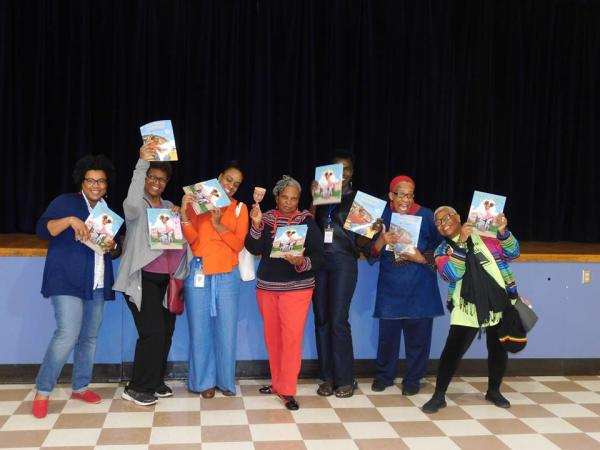 Photo courtesy of the Sacramento Black Book Fair.
---
To learn more about the Broadway/Oak Park neighborhood and other Sacramento neighborhoods, click here.