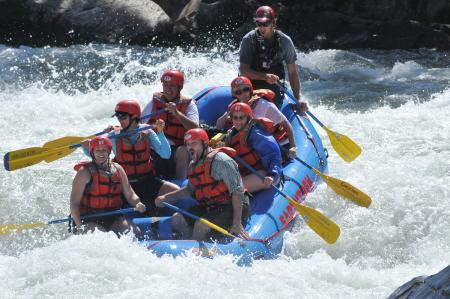 Summer is in full swing in Sacramento and so is rafting season on the American River. Whether you want to have a lazy tubing trip closer to downtown Sacramento or experience the rapids in El Dorado County, there is a summer rafting experience for everyone. And this is one of the best summers for rafting in several years. For many novices, planning a rafting trip may be a little intimidating. But when you are staying in Sacramento, there are several rafting experts and companies ready to take you and your family down the river. Here are five specific tips for planning your whitewater rafting adventure in Sacramento's Gold Country.
Timing Is Everything. Due to dam control, there is no water on Wednesdays; however, booking a rafting trip during the week on any day other than Wednesday may save you money. Weekends on the river will be a little more expensive. So, if you plan to be in the Sacramento area through a weekend, arriving a day or two early or leaving a day or two later could save you money on your rafting trip. And although the season is already in full swing, booking near the end of the season in September may also dig up a few more specials.
 
Experience Not Necessary. The South Fork of the American river is suitable for ages 7 to 75. You don't have to be an expert to enjoy rafting this part of the river. If you want to kick it up a notch, other portions of the river require a bit more skill and experience. But the Intermediate Class 3 rapids make it great for several skill levels. Basically, you can tailor your trip to fit your and your group's skill set.
 
Use a Guide. Several local companies have experienced guides who can not only navigate you down the river, but they can also give you a bit of the history that comes with the Gold Country Region. Enjoy the lulls in the river with a bit of Gold Rush history, and learn how the locals live. Here are a few of our partner rafting companies.
 
Plan Ahead. It is easy to look up hour to hour releases of water on the river. Don't be surprised if this could sometimes be irregular. If you are using a professional company to guide you down the river, they will be able to give you precise information to plan the best trip for you. If you are going at it alone, it is always best to check this information before launching.
 
Check Out the Sites. River adventures could last days or half of a day. It is a great idea to stick around for a bit to discover the Gold Country. The Gold Country region boasts several historical sites, Gold Rush era towns and more. But don't forget the food and drink. Gold Country has several different wine regions, breweries and farm-to-fork style cuisine. Do some research ahead of time so you don't miss anything.
Those are just a few tips to help you start planning your Gold Country whitewater rafting trip. Remember, the season lasts through September, so you have plenty of time to get ready. Start planning your visit today.