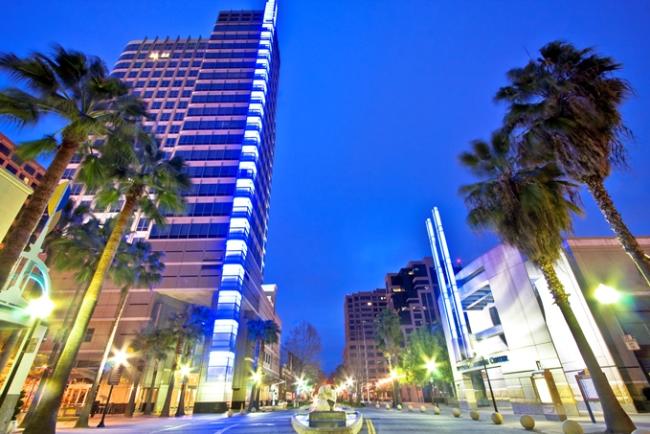 Sacramento is an ideal meeting destination. Hold your conference in Sacramento and take advantage of a great location. The following 10 reasons to book your conference in Sacramento are just some of the reasons to visit California's capital. For more information, or to send an RFP, contact our Convention Sales staff here.
1. Easy To Reach
Sacramento International Airport's 11 major airlines offer 130 flights per day and limitless connection possibilities—and it's only 15 minutes from downtown.
2. Big Fish In A Small Pond
Meeting planners and their groups, no matter how large or small, receive VIP treatment in Sacramento.
3. Convention Hotel Rooms
Full-service hotels, affordable motels and beautifully appointed inns provide 11,000 hotel rooms in the Sacramento region. Just steps from the convention center, the Hyatt Regency and Sheraton Grand offer 1,006 luxury accommodations between them, while another 1,300 rooms are within walking distance and almost 2,000 more can be found within a three-mile radius of the convention center.
4. Walkable Downtown
Sacramento was included among the "25 Best Walking Cities" named by Prevention Healthy Living Group for good reason: everyplace convention attendees need to go can be reached on foot.
5. Gold Rush & California History
Experience authentic California history from the architectural beauty of the California State Capitol and surrounding historic buildings to Gold Rush attractions in Old Sacramento and the early settlement of Sutter's Fort.  Follow the historic timeline from the discovery of gold to the great migration west.
6. Premier Dining Destination
The restaurant scene in America's Farm-to-Fork Capital has exploded thanks to a dining public that eagerly embraces creative cuisine produced by innovative chefs partnered with regional farms.
7. Premier Wine and Beer Destination, Too
More than 200 wineries, vineyards and tasting rooms within an hour's drive of Sacramento showcase the region's fruit of the vine. In town, the craft beer scene has expanded to include more than a dozen urban breweries and scores of pubs pouring regional brews.
8. Urban Sacramento
Sacramento's vibrant and walkable downtown and Midtown districts are home to live theater, fashion-forward boutiques, cutting-edge galleries, diverse entertainment venues, museums, pubs, tasting rooms and restaurants. Enjoy a craft cocktail at one of our bars or nightclubs, tune into local musicians and chat it up with the locals.

9. Natural Habitats
Get outdoors and enjoy the 32-mile American River Parkway, the Sacramento-San Joaquin River Delta, regional lakes and the many amenities offered by city parks.
10. Climate
Outdoor living is possible most of the year in a Mediterranean climate where 287 days of sunshine are virtually guaranteed. While summer afternoons can be hot, the mercury routinely dips into the 60s (Fahrenheit) come nightfall.  Winters are cool and often damp, but freezing temperatures are extremely rare. Spring and fall bring glorious changes of color to the urban forest that gives Sacramento the nickname "City of Trees."