Sacramento is the perfect destination for your faith-based meeting. Ideal venues, exceptional hotels and restaurants, unsurpassed convenience, and outstanding service combine with an affordable authentic California experience to ensure your meeting attendees get the most out of your conference.
Sacramento recently hosted the Religious Conference Management Association's EMERGE 2014 conference, and a record number of attendees showed up. They had nothing but good things to say about the location and our ability to cater to the unique requirements of different faith groups.
Now it's your turn.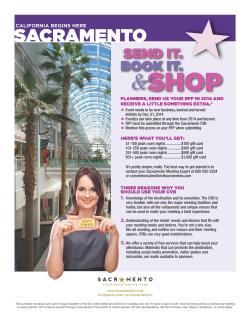 What makes Sacramento the perfect place for you?
Walkable  and Family-Friendly Downtown
Sacramento was named among the "25 Best Walking Cities" by Prevention Healthy Living Group for a good reason - everything you need can be reached on foot. The Sacramento Convention Center is in the center of it all, surrounded by Downtown and Midtown. These entertainment meccas include year-round attractions, museums, music and theater venues, shopping, and dining options galore. The Hyatt Regency and Sheraton Grand Hotels are only a few steps away from the convention center, and another 1,300 hotel rooms are within walking distance.
Meeting Facilities
Sacramento offers flexible, affordable meeting and event space to fit your every event - from the 384,000-square-foot Sacramento Convention Center, 350-acre indoor/outdoor facilities at Cal Expo, historic Memorial Auditorium, Sleep Train Arena, and many full-service hotels. Our large unique meeting sites include the California State Railroad Museum, Sacramento Zoo, Crocker Art Museum, Raley Field and so much more.
Affordable Hotels
Full-service hotels, affordable inns and historic bed and breakfasts make up 11,000 hotel rooms in the Sacramento region. The Hyatt Regency and Sheraton Grand offer 1,000 first-class hotel rooms steps from the convention center. Another 1,300 hotel rooms are within walking distance, and a total of 4,000 hotel rooms are within a three-mile radius of the convention center.
Our City is Your City
Sacramento has grown into a true cosmopolitan city, but you won't ever feel lost here. Instead, you will feel that you're the only convention in town. It's in the way you're treated by an entire community that values your business. The SCVB works side by side with its hotel partners and the Sacramento Convention Center team, restaurants, civic officials, police department, downtown guides and all our hospitality partners to ensure your meeting is a success.  

It's California! Do we need to say more?
California is the Wild West - a playground for your delegates and thei rfamilies. Here in Sacramento you'll find great weather, big-city amenities, historical attractions and a diverse culture that give us a character all our own. Plus, we're America's Farm-to-Fork Capital.
Our Staff is Full of Destination Experts
We are Sacramento experts.  Whether you're looking for that perfect venue, a great restaurant, hotel rooms, transportation or promotional materials, look no further. We're your one-stop shop, and our services are always FREE.

What's New 
There is always something exciting going on in Sacramento. A safe, walkable, family- and budget-friendly city, Sacramento is not just the capital of California, it is America's Farm-to-Fork Capital, and that means that great food, plenty of interesting museums and a diverse array of entertainment options.
Here is what's new in town (updated monthly).
* Oliver Ridgeway, executive chef of Grange Restaurant, was recently listed in Saveur Magazine's list of 100 people and places in the restaurant industry to watch in 2015. The magazine was released for sale on Dec. 23, 2014. SBJ, 12/11/14
* Sacramento's The Kitchen Restaurant was recently honored as part of an exclusive group of hotels and restaurants that earned a five-diamond rating from AAA for 2015. Out of thousands of U.S., Canadian, Mexican and Caribbean restaurants and hotels rated by AAA, only 18 received the coveted five-diamond rating this year. Napkins made from natural fibers and all meals made from scratch were just a few of the qualifications necessary for AAA five diamond consideration.
VIA Magazine, January 2015 
Unique Venue of the Month
The Aerospace Museum of California captures historic planes that represent over 80 years of aviation history. View thrilling jets like a US Navy Blue Angels fighter, A-10 Thunderbolt, or a famous "Top Gun" F-14 Tomcat. Since the new 37,500-square-foot Hardie Setzer Aerospace Pavilion and four-acre Air Park opened in 2007, thousands of visitors have come to view the museum's collection of iconic military and civilian aircraft and beautifully restored engines on display. Event capacity ranges from 12 to 1,000. Your guests will have access to the entire museum and docents are available. For more information, click here for our services team. Read more.
What Planners Think of Us
Send Me an RFP
I hope you will choose Sacramento as the destination for your next meeting. Send me an RFP, or contact me for more information. I'd love to talk to you, and our services are always complimentary.
About Me 
I am Sacramento Convention & Visitors Bureau's Convention Sales Manager foir faith-based and multicultural meetings.
I am a dedicated professional, and I have a strong passion for working with people and going the extra mile. I started my hotel career in 2000 at the Crowne Plaza Hotel Downtown San Jose assisting clients with room block reservations, menu and event details. I was promoted to Convention Services Manager, where I worked as a liaison between clients and hotel department heads to ensure successful meetings. Another promotion followed, making me the Director of Convention Services for the Crowne Plaza and its sister property, the Holiday Inn. A few short years later, I was promoted again to Hotel Sales Manager.
In 2006, I relocated to the Sacramento area and went to work for the DoubleTree and Hilton Hotels in the Sacramento Point West Marketplace.
In my free time, I enjoy riding the Sacramento bike trials, camping and spending time with my family.

Angelina Nunez
Convention Sales Manager
anunez@visitsacramento.com
800.292.2334
916.808.7405
Free Visitors Guide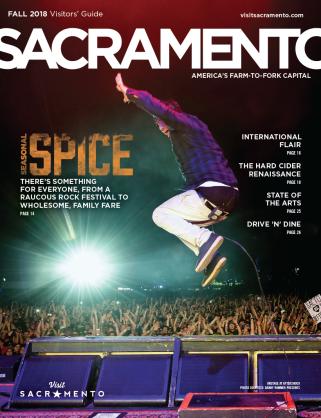 Get Inspired:
by the people and places of Sacramento in the digital Visitors Guide.
Getting Around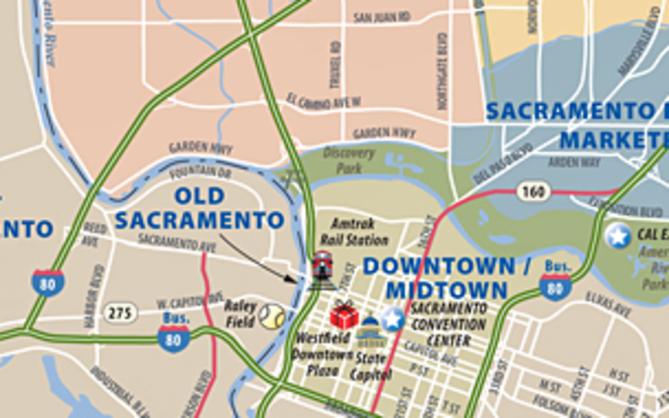 Things to Do